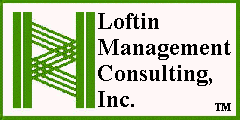 | | |
| --- | --- |
| | |
| FOR IMMEDIATE RELEASE: | CONTACT: Dargeelyn Loftin |
| September 25, 2006 | (301) 552-9170 |
Dargeelyn Loftin Recognized
for Business Excellence
Loftin Management Consulting, Inc. to receive prestigious Top 100 MBE Award
Greenbelt, MD. September 25, 2006. The Governor's Office of Minority Affairs (OMA) and The Daily Record announced that Dargeelyn Loftin, President of Loftin Management Consulting., Inc. located in Lanham, Maryland has been named one of Maryland's Top 100 Minority Business Enterprises for 2006. This program is designed to salute Maryland's best minority and women business owners and to highlight their achievements.
A panel of distinguished judges chose Dargeelyn Loftin as an entrepreneur who has demonstrated outstanding achievement in four key areas: business development, client satisfaction, professional affiliations and community outreach.
Sharon R. Pinder, Special Secretary, Governor's Office of Minority Affairs said, "The business owners selected for this award represent the best of the state's more than 200,000 women and minority owned businesses. Their contributions have had a major impact in maintaining Maryland's vibrant economy."
Dargeelyn Loftin, said, "This is a prestigious award and a significant accomplishment for a Maryland-based business to be honored for business excellence and providing outstanding client service. Ms. Loftin will be honored at an awards ceremony at the Inn and Conference Center, at University of Maryland University College, in Adelphi, Maryland, on Friday, October 27.
For more information about Loftin Management Consulting., Inc. go to the website at www.loftinmgmt.com.
You may find a listing of Maryland's 2006 Top 100 MBE Awardees, at Top100_winners_2006.
For more information on the Governor's Office of Minority Affairs visit www.mdminoritybusiness.com.
---
Home | Overview | Leadership | Services | Feedback | Contact | Survey
Copyright © 2011 Loftin Management Consulting, Inc.
All Rights Reserved.