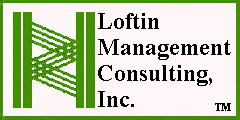 OVERVIEW
Loftin Management Consulting, Inc. (LMC, Inc.) was founded in 1994 and is focused on helping organizations develop change management strategies that will allow them to profitably grow within their given industries. Developing a business case for new services, improving business processes, expanding leadership throughout the organization, gaining a bettering understanding of the stakeholder needs, or implementing a cost-effective technology implementation can be challenging tasks. Our primary goal is to help corporations improve the effectiveness of their business operations. LMC, Inc. can help you raise awareness of the benefit of change, encourage the desire to participate in the change activities, transfer knowledge of how to implement successful change, provide training so organizational stakeholder have the ability to implement change, and identify reinforcements to keep the change initiatives in place. Projects are managed for delivery on schedule and within budget.

LMC, Inc. establishes collaborative alliances with independent consultants and consulting firms that share our principals of achieving high levels of responsiveness, proficiency, results and overall client satisfaction. Projects are managed and aligned with the organization's mission and objectives. Achievement of these objectives will be insured via consistent and on-going client-consultant communication regarding project status and progress.
---
Proven Expertise
Identifying the underlying problem is the first step in resolving a business issue. When you confront a problem critical to the success of your organization, chances are LMC, Inc. has seen, serviced and successfully solved it over the past 17 years for your peers or other profitable companies. By drawing on our leadership expertise, you get tested methodologies that have been employed at leading companies such as General Electric, America Online, the National Institutes of Health, Department of Justice, and the Maryland Department of Business and Economic Development.
---
Innovative Ideas
Searching for solutions to your problem is the next step in the planning process. You will benefit from knowing what has been successful for others, but it doesn't stop there. Your business environment requires fresh ideas and innovative solutions for optimum success. Our continuous involvement with the industry means you get hard facts on what is working now and insight into likely occurrences in the future. It is important to stay ahead of the opportunity curve in the rapidly evolving world of business management.
---
Customized Consulting
LMC, Inc. considers each engagement unique and will deliver customized services to fulfill your needs. You will not get predetermined service solutions to help you implement effective change management solutions. We recommend implementations that will strengthen and impact your strategic direction, as well as your financial measures, business processes, employee development, and customer satisfaction. In addition to providing fully integrated solutions, we have developed service categories to give you a better perspective of our core competencies. Each engagement utilizes reliable business processes for successfully addressing issues facing your organization.
---
Certifications and Codes
North American Industry Classification System (NAICS)
541611 - Administrative Management and General Management Consulting Services
541612 - Human Resources Consulting Services
541613 - Marketing Consulting Services
541618 - Other Management Consulting Services
541690 - Other Scientific and Technical Consulting Services
541720 - Research and Development in the Social Sciences and Humanities
541910 - Marketing Research and Public Opinion Polling
541990 - All Other Professional, Scientific, and Technical Services
611430 - Professional and Management Development Training
611710 - Educational Support Services
CAGE CODE: 6EWK1
The Governor's Office of Minority Affairs for the State of Maryland and The Daily Record announced that Dargeelyn Loftin, President of Loftin Management Consulting., Inc. located in Lanham, Maryland has been named one of Maryland's Top 100 Minority Business Enterprises for 2006. This program is designed to salute Maryland's best minority and women business owners and to highlight their achievements.
---
Home | Overview | Leadership | Services | Feedback | Contact | Survey
Copyright © 2011 Loftin Management Consulting, Inc.
All Rights Reserved.