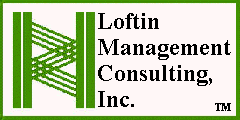 CHANGE MANAGEMENT
Loftin Management Consulting, Inc. can analyze and document what a planned investment in a change management project can provide and the projected return on investment by --

Facilitating the business need and performance expectations for a change management project;
Assessing the project risks, including the cost and probability of success or failure;
Estimating the cost of the project, including the combined cost of the current/on-going operations;
Evaluating the capacity of the organization to carry the project to success; and
Documenting the project milestones and operational targets for the organization and individual contributors.
LMC, Inc. also provides Strategic Planning and Program Marketing Services.
Key Benefits
| | |
| --- | --- |
| | Developing functional knowledge and expertise to improve customer service and business performance |
| | Identifying the project leader, champion and major stakeholders, and communicating them throughout the organization |
| | Establishing the goals, objectives and agendas, and communicating the impact to the organization if the project isn't successfully delivered |
| | Communicating the core competencies and supporting infrastructure that are needed to launch a successful project |
| | Feeling comfortable supporting remotely managed teams by using groupware applications to keep members abreast of changing goals, initiatives and deliverables |
| | Determining how to make current processes more effective by using process maps and gap analysis |
| | Enhancing customer loyalty by creating effective communication channels to support, development and sales staff |
| | Cutting operations' costs and improving business processes with information technology implementations |
| | Creating and executing a project plan on schedule and within the requested budget |
| | Shortening the product development time-to-market by developing E-Business products |
| | Cutting product fulfillment costs by using new media delivery mechanisms such as moving from print to Internet delivery |
| | Cutting customer support costs by enabling customers and subscribers to automatically renew subscriptions via the Internet |
Client Referral
Operational Assessments
Our assessments include process measurement, technology assessments, leadership assessment, skills assessment, and performance measurement that include balance scorecards, communication planning, and organization diagnostics.
Back to Change Management Service List
Project Management
We have coached and program managed cross-functional teams to develop and market software applications, messaging services, and information services for corporations and small businesses. We have implemented project management procedures that have resulted in cutting eBusiness, web site, and portal introduction timetables and increasing employee productivity. Our experienced project managers plan, execute, control, and budget any project, regardless of size. We customize our approach for the appropriate audience. We use timelines, Gantt and PERT charts, Microsoft Project, and other project management tools to effectively manage and communicate the progress of projects.
Back to Change Management Service List
Business Process Improvement (BPI)
Our BPI services improve the operations in single processes or limited segments within a business. Typically BPI is used to improve performance in specific areas of operation without the radical change that business process reengineering might offer. We can provide objective and efficient reviews of organizational effectiveness that pinpoint areas of strength and weakness. We provide realistic organizational, training, and coaching goals that will lead to process improvements. Our improvement recommendations are creative solutions that streamline and reinvent workflow processes to help an organization optimize the talents of people and use of resources effectively.
Back to Change Management Service List
Performance Measurements
We develop management tools and measures of effectiveness for assessing and managing organizational, functional, and individual performance. We help our clients develop meaningful and replicable metrics in areas such as internal process management, product introductions, and customer satisfaction.
Back to Change Management Service List
Curriculum Development
We develop content for training sessions, workshops, and presentations that motivate employees to grow their functional expertise, achieve business goals, and/or improve customer satisfaction.
Back to Change Management Service List
Training Delivery
Our training services are focused on providing the best motivators for adult learning and implementing effective change management practices in organization. We facilitate the investment in an organization's human capital through meaningful, structured, and blended training programs. Further, we use group training and interaction to help personnel understand the importance of their individual contribution to the success (or failure) of the organization. We help team members develop insights and skills to understand the significance of accountability. Our training courses incorporate the use of materials that stimulate participation and increase retention. We stress alignment to goals and objectives, relevance to the organization, pre- and post-assessments, interactivity, and a fun and challenging learning environment.
Back to Change Management Service List

Back to Top
---
Home | Overview | Leadership | Services | Feedback | Contact | Survey
Copyright © 2011 Loftin Management Consulting, Inc.
All Rights Reserved.