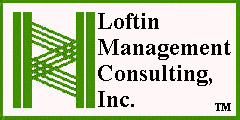 PROGRAM MARKETING
| | |
| --- | --- |
| Loftin Management Consulting, Inc. has administered customer surveys and facilitated focus groups for diverse audiences and developed customer satisfaction measurements. We have designed promotional programs for product introductions that have included public relations, advertising, direct mail, telesales and sales collateral. We have facilitated customer advisory sessions to identify industry trends and customer requirements. We can develop national promotional events for corporate branding and repositioning efforts. Let us show you how to integrate product marketing into your company's marketing strategies. LMC, Inc. also provides Strategic Planning and Change Management Services. | |
Key Benefits
| | |
| --- | --- |
| | Gaining a better understanding of your client's needs and requirements |
| | Creating effective marketing strategies that attract your target niche of customers |
| | Mapping the target market profile against the pricing model to determine reactions to price changes |
| | Determining the most effective theme, key messages and convincing arguments for your organization's marketing program |
| | Improving the packaging and positioning your products more effectively in the market |
| | Designing the marketing communications strategy to external media such as product literature, press releases and website |
| | Choosing the best communication vehicles for delivering your messages and reaching your target market |
| | Recommending potential enhancements to the product/service to add value or contribute to the marketing strategy |
| | Building brand awareness and educating the client base on new product and technological advances |
| | Increasing the number of qualified business leads |
Client Referrals
Focus Groups & Surveys
We use focus groups for organized discussion with a selected group of individuals to gain information about their views and experiences on a given topic. The benefit of focus group research is to gain insights into the target market's shared understandings of a product, service, or situation. We deploy focus groups to draw out the respondents' attitudes, feelings, beliefs, experiences, and reactions in a way that would not be feasible using other methods (i.e., observation, one-to-one interviewing, or questionnaires).

Back To Product Marketing Service List
Market Research
We identify customer segments and utilize both psychographic and geodemographic tools and strategies. We can use the latest social marketing techniques to help our clients select audiences that have a combination of similar interests, attitudes, beliefs, habits, lifestyles, or needs.
Back To Product Marketing Service List
Requirements Definition
We can develop the requirements specification documents to identify the enhancements and additions to an organization's technology and process improvements. We can develop site maps, screen shots, page layouts, mockups, and prototypes to give decision makers a better view of the implementations before projects move into development. We can also test the validity of the requirements using focus groups and/or beta testing.
Back To Product Marketing Service List
Social Marketing
We can apply marketing tools and techniques to facilitate changes in behavior that will have a positive impact on the social good. For example this may include improving highway safety, reducing the cost of government infrastructure, and/or eating healthier.
Back To Product Marketing Service List
Business Development
We have the ability to identify potential clients, partners, and other business partners that match your organizations mission and strategic direction. We will collaborate with client stakeholders to recommend the best candidates for business development opportunities.

Back to Top
---
Home | Overview | Leadership | Services | Feedback | Contact | Survey
Copyright © 2011 Loftin Management Consulting, Inc.
All Rights Reserved.